Laminating adhesives
Challenge the current technology by providing new solutions to improve processing speeds, employees and food safety, thus offering a competitive advantage.
SAPICI's goal is to work for the future by:
Offer very low monomer as well as monomer free (less than 0.1%) and zero migration adhesives for Flexible Packaging, as well as multiple polyisocyanatesand prepolymers for Coatings
Developing unique new products safer for human health
Reducing VOC (High Solid, Solvent less & Waterborne products) to respect the planet
Sustainable chemistry developed on Bio sourced materials feedstock
Value Proposition
Provide new safety and marketing advantages to packaging converters and laminators
Offering monomer free (< 0.1% free monomer), zero migration adhesives that do not contain any carcinogenic substances to migrate from packaging to foods
Monomer free adhesives improve safety for operators in the working environment by eliminating potential exposure to harmful substances
Monomer free adhesives enhance speed to market by eliminating PAA's thus allowing for products to be immediately ready for shipment after lamination. No waiting for PAA decay therefore immediate food compliance
Offering monomer free and conventional systems that will reduce scrap with improved wettability and reduced CO2 formation that will allow for enhanced optics
Additional Innovations
Room temperature curing Aliphatic solvent-based and solvent-free systems
High Solid solvent based for high line speed solvent-based lamination
Medium Performance water based Polyurethanes adhesives
Surface energy modified Solvent-free adhesives for lamination of double barrier materials (PA/PE-EVOH-PE, PET/ALU)
High performances Aromatic adhesives OH and NCO terminated for chemical aggressive fillings, in compliance with
New German Ordinance for Inks (No PAA Reforming)
Sapici is a full-service Flexible Packaging laminating adhesive supplier globally
Sapici has the full laminating equipment and technical expertise to work with you on optimizing monomer free, zero migration, as well as their conventional SF and SB systems
Sapici offer on-site technical assistance, or run trials based on customer needs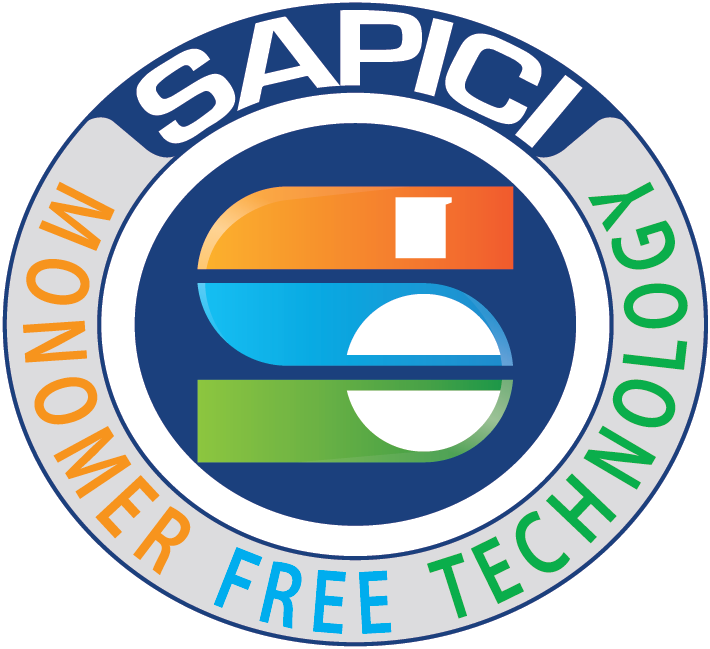 SAPICI characterises its presence in the global Laminating Adhesives and Flexible Packaging Industries with unique 3-colour Logo
SAPICI has elected to characterise its active presence in the global Laminating Adhesives and Flexible Packaging industries with a unique 3-colour logo based on its S-shaped. The three colours — orange, blue and green — have been chosen to represent the SAPICI values of Flexibility, Versatility and Innovation & Sustainability.
Flexibility in the development, analytical and manufacturing services the Company offers its clients to further sustain and accelerate their differentiation and success;
Versatility as SAPICI provides its customers with waterborne, solvent-free and solvent-based polyurethane solutions for industries including Building & Construction, Automotive & Transportation, Packaging, Metal Coating, Wood Products, Engineering, Electrical and Electronics, Fiber & Textile, Ink & Graphic Arts, Healthcare & Medical, and Adhesives;
Innovation & Sustainability to represent SAPICI's constant commitment to developing and offering advanced solutions with the lowest-possible/no-impact on either the environment or the health to both their clients and the industries they serve.